2013 Version
"How To Get All Your Questions Answered
About Becoming A Personal Coach
~ And Save Yourself A Lot Of Money
And Time In The Process!"
| | |
| --- | --- |
| | Are you thinking of becoming a coach? Learn how to sort through the maze of information on training programs, certification and the business of coaching with this downloadable resource guide. |
From: Sue Bond
Vancouver, B.C.
Dear friend,

Are you curious or intrigued about the profession of coaching?

Imagine… creating the lifestyle you desire …being your own boss …working from home or anywhere in the world accessible by phone …and helping others get what they want in their lives. Does this sound fulfilling?

These are just a few of the reasons that coaching is one of the world's fastest growing professions with an estimated 30,000+ coaches worldwide. Career and life coaching for Baby Boomers was included as one of the 27 hottest ideas for 2007at Entrepreneur.com.
Sounds Great...Is It Possible to Make a Living as a Coach?
This is one of the most frequent questions asked by prospective coaches. Two separate surveys conducted in 2003 revealed that 9% of coaches were earning $100,000 or more per year. Some coaches make a six-figure income from coaching and related products and services while others coach on a part-time basis to supplement their income.
Before Reading Any Further...
If you're thinking about becoming a coach, I strongly urge you to subscribe and receive the Becoming a Coach Starter Kit. It includes the:

"Becoming a Coach" checklist
"Is Coaching the Right Career For You?" quiz
Preview Chapter from the "How to Become a Coach" eBook
Chapter 9: How Coaches make Money
the monthly Coaching Updates ezine.
Subscribe to Coaching Updates

A new window will appear. You can unsubscribe at any time.
Is Coaching the Profession for You?
To find out, begin by taking the time to research the profession. Create a list of questions that you have about coaching. Find out what coaches do. Check out the various coach training schools. These are just some of the things that can help you determine whether coaching is a fit for you before starting a business and investing in a coach training program. Training can cost anywhere from $1500 to $10,000+ US for an accredited program.
"The 'How to become a coach' ebook package is loaded with practical and down-to-earth information about the coaching profession. Having done some research myself before finding this ebook, I know this material will save you a lot of time!

It also includes a great step-by-step guide to an ideal career which I absolutely love because it starts with a vision of your lifestyle and takes you from there. It is worth every single penny and I am now happily enrolled in a coach training program."
Mona Kelly, Brookline, MA
I'll Show You How and Where you Can Find the Answers
to Your Questions About Coaching
Almost twelve years ago I was where you are now. I was intrigued by coaching and wondering if it was right for me. I had heard about the profession four years earlier and had visited the Coach U site but didn't join. In early 2000 I heard that the Coaches Training Institute was conducting a training course in town. I called a couple of coaches I had met at a local ICF chapter meeting and asked about the coach training program they had taken. I decided to take the CTI training as it was in-person (and to me a scarier choice than a teleclass).

I absolutely loved the environment and enjoyed coaching my fellow classmates. Soon after the first course Thomas Leonard of Coach U came to town on his Millenium Tour. He gave one flashy, content-filled presentation. I was beginning to doubt my choice of training schools... and I wasn't the only one! I completed the CTI curriculum but didn't sign-up for the certification program. Something felt off.

I began coaching clients and still felt that something was off. Could it be that one-to-one coaching didn't fit my personality type? Was I just not ready? Could this happen to other people? And that is why I wrote this ebook.

I have spent hundreds of hours researching the profession of coaching since 2001. The amount of information was almost overwhelming! And that was a decade ago. It's only gotten worse.

I'll share with you the answers I found as well as the places that you can find answers to your most pressing questions. I can help you find the answers you're looking for in a fraction of the time you could find them on your own. Think about the time you'll save by having the How to Become a Coach ebook at your fingertips.

Save Time Getting through the Information Maze
The amount of information available about coaching is expanding rapidly. Let's take a look at coach training. Currently there are over 400 organizations (and that's a conservative estimate) offering coach training programs. Just over 200 of these coach training programs are accredited by the main coaching associations - and that's just counting programs with at least 100 hours of training! It could take hours upon hours to research these programs.

The How To Become a Coach ebook outlines the difference between accredited and non-accredited programs, shows you where to find these coach training programs, and how to choose the best training program for you.

Many of the free 'Question and Answer' or 'Introduction to Coaching' teleclasses available are slanted in favour of a particular training program. The How To Become a Coach ebook is completely objective. We are not affiliated with any coach training organizations or coaching association. Since we have no agenda, this allows you to choose the best program for you.
How This Guide Will Benefit You
I created this guide so prospective coaches could:

Make sense of the vast amount of information available on coach training and certification programs and choose the right school for them.
Get an overall picture or view of what becoming a coach entails.
To help you save time during the research process by giving links to essential resources that you need to know about.
Here's What One Master Coach Had to Say About the
"How to Become a Coach" ebook.
"As one of the first Master Certified Coaches in Canada I have many people contact me and ask me questions about the coaching profession. Sue's ebook provides the answers to many of those questions. I recommend anyone exploring the profession and deciding whether to become a coach to purchase Sue's ebook for their resource library. I wish I had a book like this when I first became involved in the coaching profession. It would have saved me a lot of time."
Teresia LaRocque, MCC
Teresia LaRocque Coaching and Associates
Vancouver, BC

Still Not Convinced?
Take a Look at the Chapters in our Guide
Let's Talk Money
How much do coaches really make? The internal game of money.

How to Determine if Coaching is the Best Career for You.

Coaching and Regulation
Is coaching regulated?

Coach Training Programs
Do you need it? How long does it take? How much does it cost? What to look for...

Certification
What is it? Do you need it? Who offers it?

Self-Employment
How do you prepare for it?

Building a Coaching Business
An overview of what's involved so your eyes are open!

How Coaches Make Money
This is the preview chapter in the Coach Starter Kit

22 Additional Ways Coaches Make Money

Transitioning into Coaching
Do I need to quit my job?
(The answer is no by the way – you can build a practice on a part-time basis.)

12 Ways to Meet Coaches
The How To Become a Coach ebook is a comprehensive 90-page overview (74 pages if you exclude the Table of Contents, appendices, bio and cited sources) of the profession and business of coaching. In addition to the information presented many of the sections have a set of suggested exercises included in a separate 33-page Workbook so that you can take action and find the answers you need for each topic.

Plus there is an online resource section with links to coaching associations, coach training programs, and business resources in the US, Canada, the UK, and Australia.

You also get the Coaching Associations at a Glance report, which gives you an overview of the top dozen coaching associations. This comes in handy during the Coach Training and Certification chapters of the eBook.

Are you wondering if the information is old and dated? The ebook has been updated eight times since June 2001. The latest revision was released in September 2013.

But That's Not All... You Get These Bonuses...
As a special reward for taking immediate action, you will also receive these bonuses:
Bonus #1: Coach Training Program Online Sorter.



We compare each of the 100+ accredited coach training programs, which are offered in English, with respect to cost, length of time it takes to complete the program, the training format, and where it is offered. Using the Online Sorter you can narrow down the list of programs based on the parameters you choose. It took over 40 hours to find all the information for each program. How much time could this alone save you?

Bonus #2: "Becoming a Life Coach: 20 of Your Top Question Answered" eBook



For those who are just learning about coaching, this Intro eBook will answer questions such as: what is coaching, how does it differ from therapy and mentoring, can anybody be a coach? and many more. Twenty questions in total are answered.
Bonus #3: Tips from Coaches on Becoming a Coach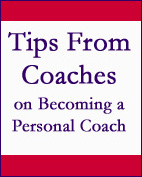 You're probably familiar with the saying "You don't need to reinvent the wheel."

See what fifteen coaches have to say about the profession of coaching. You'll learn what they know now that they wish they had known when researching the profession, their tips on choosing a coach training program and more.
Bonus #4: 5 Steps to an Ideal Career report.



It could take days, months or even years to thoroughly examine your life and determine your passions, goals, and the perfect work for you. The "5 Steps to an Ideal Career that Aligns with your Lifestyle, Talents and Skills" is a quick way to get you started so you can see if coaching may be a career that is right for you.


Bonus #5: Receive Free Updates.



When the How to Become a Coach eBook package is updated, you'll get a copy of it. (As long as you stay on the update email list.)
This is a limited time offer as these bonuses could change.
But…I Can Figure This Out Myself.
You're right – you are an intelligent and resourceful person and you could figure most of this out on your own. But how long would it take you? And how can you make sure your information is both complete and objective? I invite you to save yourself some time and buy this resource now for only $47. Act now!
100% Money Back Guarantee...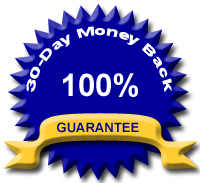 The How To Become a Coach ebook comes with a 30-day 100% money back guarantee.

If after reading the guide you are not completely satisfied, email us a copy of your receipt within 30 days of your purchase date and your money will be refunded in full.
Two Options
Choose from two options:
How To Become a Coach Ebook: $47 US

How to Become a Coach + Email Coaching Session: $67 US

Email Coaching Session: Get support while reading the ebook package and researching the coaching profession. Send me one question and I'll answer it within 2 business days. Must be used within 60 days of your purchase date. (You'll receive further instructions after you place your order.)
Are you willing to invest $47 to get a comprehensive research guide on a profession that could potentially make your dreams come true? If you become a coach, the money you invest today will be paid back many times over.
I hope to hear from you today...
Sue Bond
P.S. The 'How To Become a Coach' ebook is downloadable so you could start reading it in just 10 minutes..

How To Become a Coach Ebook: $47 US


How to Become a Coach + Email Coaching Session: $67 US

(Revised September 2013)
Here's what will happen when you order...
When you click on the 'Get This Ebook Now' button for the How to Become a Coach ebook, you will be taken to a secure order page at Paypal. If you have a Paypal account you can log-in and complete the purchase. If you don't have a Paypal account you can pay by credit card.
Once your purchase is complete (you may need to click on a 'Complete Purchase' button), two things will happen: (1) you'll be taken to a thank you page and (2) you'll receive an email asking you to confirm that you wish to receive the download information for your purchase. Click to confirm and you'l receive a second email that contains the website address for the download page, as well as the user name and password, so you can go back at any time. If you do not receive this within 10-15 minutes of ordering, please email support@suebond.com. On your credit card statement the purchase will appear as PayPal - Sue Bond Coaching.

How To Become a Coach Ebook: $47 US


How to Become a Coach + Email Coaching Session: $67 US

(Revised September 2013)
Please note: This is a 'how to research the profession of coaching' ebook and does not include step-by-step instructions on 'how to build a coaching practice.'

Copyright 2001-2013 Sue Bond


F.A.Q. | Free Chapter | Legal Rights & Terms of Use | Privacy Policy